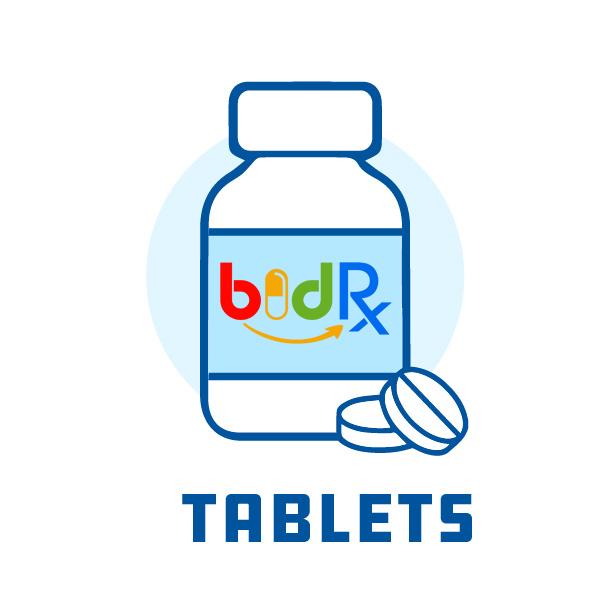 BUPROPION HCL 100 MG TABLET
USES: Bupropion is used to treat depression. It can improve your mood and feelings of well-being. It may work by helping to restore the balance of certain natural chemicals (neurotransmitters) in your brain.
Indications : depression associated with bipolar disorder, seasonal affective disorder, smoking cessation, major depressive disorder, attention-deficit hyperactivity disorder, anxiety with depression, binge eating disorder
OTHER USES: This section contains uses of this drug that are not listed in the approved professional labeling for the drug but that may be prescribed by your health care professional. Use this drug for a condition that is listed in this section only if it has been so prescribed by your health care professional. This drug may also be used for other mental/mood disorders (such as attention deficit hyperactivity disorder-ADHD, seasonal affective disorder, depressive phase of bipolar disorder). It may be used to help people quit smoking by lessening cravings and nicotine withdrawal. It may also be used to for binge eating disorder (BED).
SIDE EFFECTS: See also the How to Use, Precautions, and Warning sections. Nausea, vomiting, dry mouth, headache, constipation, increased sweating, joint aches, sore throat, blurred vision, strange taste in the mouth, diarrhea, or dizziness may occur. If any of these effects persist or worsen, notify your doctor or pharmacist promptly. Remember that this medication has been prescribed because your doctor has judged that the benefit to you is greater than the risk of side effects. Many people using this medication do not have serious side effects. This medication may raise your blood pressure. Check your blood pressure regularly and tell your doctor if the results are high. Tell your doctor right away if any of these unlikely but serious side effects occur: chest pain, fainting, fast/pounding/irregular heartbeat, hearing problems, ringing in the ears, severe headache, mental/mood changes (e.g., agitation, anxiety, confusion, hallucinations, memory loss), uncontrolled movements (tremor), unusual weight loss or gain. Tell your doctor right away if any of these rare but very serious side effects occur: muscle pain/tenderness/weakness. Get medical help right away if you have any very serious side effects, including: eye pain/swelling/redness, widened pupils, vision changes (such as seeing rainbows around lights at night). This drug may rarely cause seizures. Seek immediate medical attention if you experience a seizure. If you have a seizure while taking bupropion, you should not take this drug again. A very serious allergic reaction to this drug is unlikely, but seek immediate medical attention if it occurs. Symptoms of a serious allergic reaction include: rash, itching/swelling (especially of the face/tongue/throat), severe dizziness, trouble breathing. This is not a complete list of possible side effects. If you notice other effects not listed above, contact your doctor or pharmacist. In the US - Call your doctor for medical advice about side effects. You may report side effects to FDA at 1-800-FDA-1088 or at www.fda.gov/medwatch. In Canada - Call your doctor for medical advice about side effects. You may report side effects to Health Canada at 1-866-234-2345.
HOW TO USE: Read the Patient Information Leaflet and Medication Guide available from your pharmacist before you start using bupropion and each time you get a refill. Consult your doctor or pharmacist if you have any questions. Take this medication by mouth, with or without food, usually three times daily. If stomach upset occurs, you may take this drug with food. It is important to take your doses at least 6 hours apart or as directed by your doctor to decrease your risk of having a seizure. Do not take more or less medication or take it more frequently than prescribed. Taking more than the recommended dose of bupropion may increase your risk of having a seizure. Do not take more than 150 milligrams as a single dose, and do not take more than 450 milligrams per day. Your dosage is based on your medical condition and response to therapy. Your dose may be slowly increased to limit side effects such as sleeplessness, and to decrease the risk of seizures. To avoid trouble sleeping, do not take this medication too close to bedtime. Let your doctor know if sleeplessness becomes a problem. Use this medication regularly in order to get the most benefit from it. To help you remember, use it at the same times each day. Do not stop taking this medication without consulting your doctor. Some conditions may become worse when the drug is suddenly stopped. Your dose may need to be gradually decreased. It may take 4 or more weeks before you notice the full benefit of this drug. Continue to take this medication as directed by your doctor even after you feel better. Talk to your doctor if your condition does not improve or if it worsens.
PRECAUTIONS: See also the How to Use and Warning sections. Before taking bupropion, tell your doctor or pharmacist if you are allergic to it; or if you have any other allergies. This product may contain inactive ingredients, which can cause allergic reactions or other problems. Talk to your pharmacist for more details. Before using this medication, tell your doctor or pharmacist your medical history, especially of: seizures or conditions that increase your risk of seizures (including brain/head injury, brain tumors, arteriovenous malformation, eating disorders such as bulimia/anorexia nervosa), alcohol/drug dependence (including benzodiazepines, opioid pain medicines, cocaine and stimulants), diabetes, heart disease (e.g., congestive heart failure, high blood pressure, recent heart attack), kidney problems, liver problems (e.g., cirrhosis), personal or family history of psychiatric disorder (e.g., bipolar/manic-depressive disorder), personal or family history of suicide thoughts/attempts, personal or family history of glaucoma (angle-closure type). This medication should not be used if you are suddenly stopping regular use of sedatives (including benzodiazepines such as lorazepam), drugs used to treat seizures, or alcohol. Doing so may increase your risk of seizures. This drug may make you dizzy or affect your coordination. Alcohol or marijuana (cannabis) can make you more dizzy or affect your coordination. Do not drive, use machinery, or do anything that needs alertness until you can do it safely. Avoid alcoholic beverages. Alcohol can also increase your risk of seizures. Talk to your doctor if you are using marijuana (cannabis). Older adults may be more sensitive to the side effects of this drug, especially dizziness and memory loss. Dizziness can increase the risk of falling. During pregnancy, this medication should be used only when clearly needed. Since untreated mental/mood problems (such as depression, seasonal affective disorder, bipolar disorder) can be a serious condition, do not stop taking this medication unless directed by your doctor. If you are planning pregnancy, become pregnant, or think you may be pregnant, immediately discuss with your doctor the benefits and risks of using this medication during pregnancy. This drug passes into breast milk and may have undesirable effects on a nursing infant. Consult your doctor before breast-feeding.
DRUG INTERACTIONS: See also Precautions section. Drug interactions may change how your medications work or increase your risk for serious side effects. This document does not contain all possible drug interactions. Keep a list of all the products you use (including prescription/nonprescription drugs and herbal products) and share it with your doctor and pharmacist. Do not start, stop, or change the dosage of any medicines without your doctor's approval. Some products that may interact with this drug include: codeine, pimozide, tamoxifen, thioridazine. Taking MAO inhibitors with this medication may cause a serious (possibly fatal) drug interaction. Avoid taking MAO inhibitors (isocarboxazid, linezolid, metaxalone, methylene blue, moclobemide, phenelzine, procarbazine, rasagiline, safinamide, selegiline, tranylcypromine) during treatment with this medication. Most MAO inhibitors should also not be taken for two weeks before and after treatment with this medication. Ask your doctor when to start or stop taking this medication. This medication may interfere with certain medical/laboratory tests (including brain scan for Parkinson's disease, urine screening for amphetamines), possibly causing false results. Tell laboratory personnel and all your doctors you use this drug.
OVERDOSE: If someone has overdosed and has serious symptoms such as passing out or trouble breathing, call 911. Otherwise, call a poison control center right away. US residents can call their local poison control center at 1-800-222-1222. Canada residents can call a provincial poison control center. Symptoms of overdose may include: seizures, hallucinations, fast or slow heart rate, loss of consciousness.