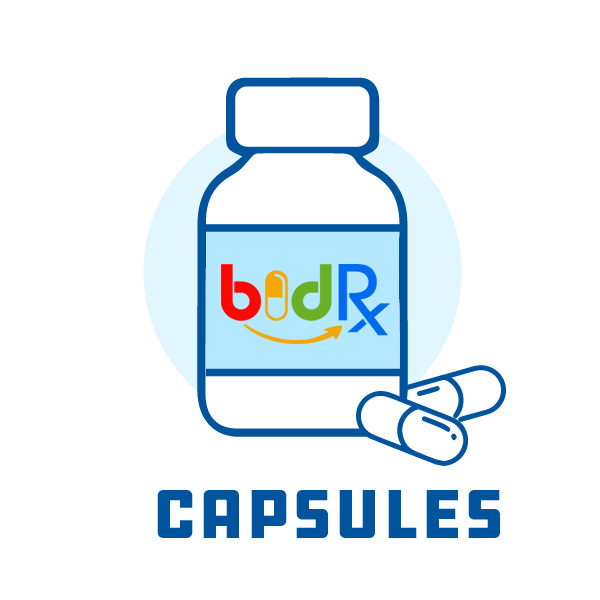 BENZONATATE 100 MG SOFTGEL
USES: This medication is used to treat coughs caused by the common cold and other breathing problems (e.g., pneumonia, bronchitis, emphysema, asthma). It works by reducing the reflex in the lungs that causes the urge to cough. Use of this medication is not recommended in children younger than 10 years. Discuss the risks and benefits with your doctor.
SIDE EFFECTS: Drowsiness, dizziness, headache, nausea, stomach upset, constipation, and stuffy nose may occur. If any of these effects persist or worsen, notify your doctor or pharmacist promptly. Remember that this medication has been prescribed because your doctor has judged that the benefit to you is greater than the risk of side effects. Many people using this medication do not have serious side effects. Tell your doctor right away if any of these unlikely but serious side effects occur: mental/mood changes, loss of feeling in the chest, burning in the eyes. A very serious allergic reaction to this drug is unlikely, but seek immediate medical attention if it occurs. The possibility of an allergic reaction may increase if you chew, suck, or dissolve this medication in your mouth. Symptoms of a serious allergic reaction may include: rash, itching/swelling (especially of the face/tongue/throat), severe dizziness, trouble breathing, fainting. This is not a complete list of possible side effects. If you notice other effects not listed above, contact your doctor or pharmacist. In the US - Call your doctor for medical advice about side effects. You may report side effects to FDA at 1-800-FDA-1088 or at www.fda.gov/medwatch. In Canada - Call your doctor for medical advice about side effects. You may report side effects to Health Canada at 1-866-234-2345.
HOW TO USE: Take this medication by mouth with or without food, usually 3 times daily as needed or as directed by your doctor. Swallow this medication whole. Do not chew, suck, or dissolve this medication in your mouth. Doing so will cause a loss of feeling in your mouth/throat and may cause choking or a severe allergic reaction. (See also Side Effects section.) Do not eat or drink until the numbness goes away. Get medical help right away if the numbness persists or worsens. Dosage is based on your medical condition and response to therapy. Do not take more than 200 milligrams at one time. Taking more benzonatate than prescribed will not make your cough go away faster but may result in serious side effects. Tell your doctor if your condition persists or worsens.
PRECAUTIONS: Before taking benzonatate, tell your doctor or pharmacist if you are allergic to it; or to certain anesthetic agents (e.g., procaine, tetracaine); or if you have any other allergies. This product may contain inactive ingredients, which can cause allergic reactions or other problems. Talk to your pharmacist for more details. Before using this medication, tell your doctor or pharmacist your medical history. This drug may make you dizzy or drowsy. Alcohol or marijuana (cannabis) can make you more dizzy or drowsy. Do not drive, use machinery, or do anything that needs alertness until you can do it safely. Limit alcoholic beverages. Talk to your doctor if you are using marijuana (cannabis). During pregnancy, this medication should be used only when clearly needed. Discuss the risks and benefits with your doctor. It is not known if this medication passes into breast milk. Consult your doctor before breast-feeding.
DRUG INTERACTIONS: Drug interactions may change how your medications work or increase your risk for serious side effects. This document does not contain all possible drug interactions. Keep a list of all the products you use (including prescription/nonprescription drugs and herbal products) and share it with your doctor and pharmacist. Do not start, stop, or change the dosage of any medicines without your doctor's approval. Tell your doctor or pharmacist if you are taking other products that cause drowsiness such as opioid pain or cough relievers (such as codeine, hydrocodone), alcohol, marijuana (cannabis), drugs for sleep or anxiety (such as alprazolam, lorazepam, zolpidem), muscle relaxants (such as carisoprodol, cyclobenzaprine), or antihistamines (such as cetirizine, diphenhydramine). Check the labels on all your medicines (such as allergy or cough-and-cold products) because they may contain ingredients that cause drowsiness. Ask your pharmacist about using those products safely.
OVERDOSE: If someone has overdosed and has serious symptoms such as passing out or trouble breathing, or if a child accidentally swallows this medication, call 911. Otherwise, call a poison control center right away. US residents can call their local poison control center at 1-800-222-1222. Canada residents can call a provincial poison control center. Symptoms of overdose may include: restlessness, shaking (tremors), seizures, inability to wake up (coma).